What Is SMS And How Does It Work? Some of you may have noticed the word SMS and wondered what it means? especially with all of the messaging apps and websites out there, such as WhatsApp, Facebook Messenger, Google Hangouts, Skype, etc. So you may be wondering – What Is SMS And How Does It Work?
Good question! In this article, I will answer these questions to help you understand how SMS works and why it's still used today despite all of the other applications that can replace it or work in conjunction with it.
What is Short Message Service (SMS)?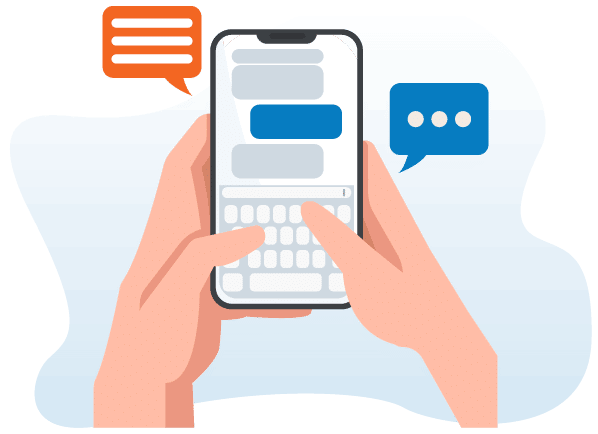 Short Message Service (SMS) is a cell phone technology that allows you to send short text messages back and forth to another person's cell phone. A common misconception is that you need an internet connection to use Short Message Service (SMS). This is actually not true! You do need an internet connection if you want to send a message or a picture. But what is great about SMS technology is that it can be used on nearly any mobile phone. Even if there are no towers available or if they are down. In addition, SMS can also be used with most smartphones. Smartphones allow users to send texts at anytime from anywhere using their cell service provider rather than needing access through WiFi or some other source of internet connection.
Advantages Of Using SMS
Even though phone companies will tell you that they only offer texting services, it's a misleading statement at best. Text messaging — or Short Message Service (SMS) — is simply another way to send small amounts of data from one person to another. The beauty of texting is that it works regardless of what type of device you're using. Yes, most people still use their phones for texting (and nearly everyone under 25 does so regularly). But as long as your phone can receive text messages and access Internet via Wi-Fi or cellular connection, you can send and receive text messages on an Internet-connected computer, tablet or smartphone. As such, SMS is a great tool for individuals with older phones who want to start sending and receiving messages from smartphones and tablets.
Disadvantages Of Using SMS
While text messaging is extremely popular, especially among teenagers, you should note that there are some drawbacks to using it. For example, an SMS message will cost more than a phone call (if you're in a country where there is a difference), and might not be delivered immediately. Additionally, because an SMS can only hold so much information—160 characters for most carriers—you won't be able to send very long messages or multimedia files via text. Lastly, texting does require a network connection (though many carriers offer SMS-to-email capabilities) so if your phone can't find any signals when you try to send an SMS message to someone else, it'll fail and simply generate an error.
Things to know about text messaging?
How does text messaging work, you ask? Well, as long as you have a phone with text capabilities, it's all pretty simple. This cell phone service, which is sometimes also referred to as Short Message Service (SMS), uses your existing cell phone number for both sending and receiving texts. For instance, if you're currently talking on your smartphone and a friend texts you to find out what time dinner is at 6:00 pm., then when you see that message come through from them your conversation will immediately pause so that you can reply via text. Likewise, if someone calls your number and gets voicemail then they can send a text in order to leave a message rather than leave an actual voice mail message.
Does SMS Use Data?
The first thing you should know about SMS is that it doesn't require internet access. Data or Wi-Fi are not needed for sending and receiving texts. Of course, when a connection is available, many users opt to send messages via their data plan or Wi-Fi since it costs significantly less than a text message and can be sent more quickly. The bottom line: To send an SMS message, your phone must be connected to some sort of cellular service (i.e., 3G or 4G). Whether you use your data plan or Wi-Fi to transmit those messages has no effect on that requirement.
First SMS Message?
First SMS message was sent on December 3, 1992. The first person to send an SMS message was Neil Papworth. The recipient of that message was Richard Jarvis of Vodafone. The message read Merry Christmas.
Types Of SMS?
There are two different types of messages: text-only and multimedia messaging. Text-only messages, also known as character or text messages, can only send text. In order to send a picture, video or audio message, you must use multimedia messaging. While it is typically more expensive than text-only services, it has increased in popularity over recent years due to its ability to allow users to capture a moment through images and video with friends and family.
Does SMS Require Internet?
Yes, while you can technically use an SMS text message without internet, it's practically impossible. After all, how will you know who sent what to whom? For that matter, how will you receive messages from people with whom you don't have an established relationship? To send and receive texts, your phone has to be connected to a cellular network—and it has to be able to access that network in order for your service provider to deliver messages. If that's not possible (or affordable), your only real option is to connect over WiFi. While data plans are becoming more affordable all of the time and many people have unlimited data packages these days, not everyone does.
So this the complete detail of how SMS Work?
i hope you all must have liked the article. If you have liked the article then please do share it with your friends.
And you can comment down your views or suggestion regarding this article.
i have also wrote an article on How To Send Large Files Via Gmail In Android Phones?