As of now there are lots of online earning Apps available on internet through which you can earn money.
But most of those Apps are fake which doesn't give you even a single rupee and you completely waste your time on those Apps.
But there are even some genuine Apps available on which you can actualy earn money.
For example:- Rozdhan
Rozdhan is an online earning App where you can earn money by referring Rozdhan to your friends and inviting them to install the App.
But earning on Rozdhan is very slow. Infact to earn even 200/- rupees you need to invite atleast 20-25 people. Which is a hectic task if you are not a content creator or a influencer who does not have so much audience or contact.
So in this article i am going to tell you about one of the genuine online earning App through which you can earn money fast by just uploading Photos, Videos, etc.
Yes i am talking about Tsu App.
What is Tsu App?

Tsu is an Amercian App on which you can earn money by just uploading Photos, Videos, Articles, etc.
Similar to other social media sites, Tsu allows the user to upload photos and videos, add friends, follow, post, create a bio and promote personal websites. It also allows users to promote their profiles on other social media sites.
Is Tsu App legit?
Yes Tsu app is 100% legit. It is not a scam. It is being used by many people across the globe. And many people are earning huge amount of money through Tsu app. And it is not like you will get rich quickly. It is just similar to any other App like YouTube, Instagram, etc. So be patient and earn on Tsu.
How do you earn money on Tsu App?
You can earn money on Tsu by posting your pictures, videos, texts, links, etc, and get views and likes. Tsu will put Ads on your content and share the ad revenue back to you.
When you post anything on Tsu App, people will see a Support me option below your post.

And when someone clicks on support me and watches the Ad, you will get revenue for those ads.
For example you write an interesting post, and some people shared that post. Finally it has generated 1000 views and 5 dollar ad revenue to the platform. So you will get 2.5 dollar, with this single post.
You can also earn by inviting people on Tsu App.
If you invite other people / influencers / artists / content creators to the platform and they will generate ad dollars later, you will get 10% of it, forever.
For example if a person you invited earns 10000 rupees. Then you will get 10% of it which is 1000 rupees.
Social media platform Tsu, which pays its users for sharing original content, is owned by private equity real estate group Terracap Group and intellectual property services company Hilco Streambank.
Tsu is slightly different. Tsu is built around a cultural core premised on rewarding users for the content they create and the sales they influence. Tsu is also simple to use, secure, and compliant.
How to Download Tsu App?
Tsu App is available on Playstore as well as on App store. So you can download Tsu App from either of the store depending whether you have Android or ios.
Android Download Link
https://invite.tsu.social/9oGT
How to sign up on Tsu App?
After downloading Tsu App, you have to open it.
Then you have to enter the email you want to use for signing on Tsu.
After that you have to fill up the required fields and at last you have to enter the username of the person who have invited you on Tsu. You can enter my username usama0528 in Invited by username box.
You will start using Tsu App after completing the sign up process.
How can I block a user on Tsu App?
Click the 'Search' button in the top left corner of your screen
3. Search the user you want to Block
4. Once their profile comes up, click the three dots next to the profile picture
5. Select 'Block User' at the bottom of your screen
How can i unblock a user on Tsu App?
To unblock a user you have previously blocked, please follow these steps:
1. Click on your profile picture icon on the bottom right-hand corner of your screen
2. Click on the icon with the three lines on the top-left corner of your screen. This will bring up your General Settings
3. In General Settings, click on Blocked Users. This will show you all of the users on the platform you have blocked.
4. Choose the user you wish to unblock, and click Unblock to the right side of their username.
How do i know who has signed up using my invite/referral link on Tsu?
When another user has signed up using your link, they will become part of your network, or Family Tree. To view which users are part of your Family Tree, click on "Insights" within your General Settings. When you click on the Family Tree tab, you will have access to your whole network. This includes the user that invited you and all the users you yourself have invited.
What is the Family Tree?
The Family Tree is an easy way to view your entire Tsu network. It's broken into three sections:
1) It tells you who you are (as if you didn't already know)
2) It tells you who you were invited to the app by (AKA your parent)
3) It tells you all the users who signed up under you (AKA your children)
How to grow on Tsu?
Tsu platform is built for a community that values quality content over quantity. While Tsu understand and appreciate the enthusiasm for growing an account on Tsu, users should never have to ask for a follower.
Genuine relationships are built upon genuine interest and trust, and the same is true for engagement on Tsu.
People will follow out of interest, not obligation. Tsu encourage users to grow their audiences through original content and engagement. It does not allow spamming as a means to gain more followers.
How can i get verified on Tsu App?
You have to fill a form on Tsu App to get verified on Tsu.
How to sign out of Tsu App?
Below are the steps to Sign Out of your Tsu account.
• Open the app
• Tap on your profile, On the bottom right-hand side
• Click on the three horizontal lines on the top left-hand side

• The App will display the options as shown below. Select 'Sign Out'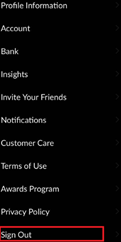 When does the analytics update in Tsu App?
Analytics page is used to track your engagement within the app. It displays total engagement for views, likes and comments and individual posts.
Analytics reset everyday at 11:59 PM Eastern Standard Time (EST).
What is the Support Me Button on Tsu App?

The Support Me button was created as a way for you to directly support the creators that you like and care about. It gives them a little bit of an extra monetary boost directly by you! When you tap the Support Me button, you are forced to watch a full screen ad which guarantees a direct monetary deposit at a slightly higher CPM right into that users bank as a direct result of the action you took. You can click the Support Me button as many as 500 times per day.
Is there a limit on 'Support Me' clicks in Tsu App?
A user cannot use the 'Support Me' option countless times, as Tsu has implemented some limitations on the button.
You can only use the 'Support Me' button 500 times per day. When you have reached your limit for the day, the button will become grayed out and you will not be able to click on it. When this happens, you must wait until 12 AM UTC the next day to start using the button again.
What if a Earning/Dividend is not showing on Tsu App?
Earnings/Dividends from Friday, Saturday, and Sunday are not posted until Monday. With this in mind, if you do not have a earning/dividend posted, it means you did not earn for that particular day.
If you liked the Article then do share it with your friends.
I have also wrote an Article on How to Send Large Files Via Gmail in Android Phones